Stock Supply Chain Has Limitations in Times of Crisis
An economic downturn can have a grave impact on your business, especially if your logistics network and product manufacturing lines are hinged upon stock products. HQC Incorporated offers an imperative solution during this time of crisis, and can help you to protect your business from future supply-chain disruptors as well.
If you're still buying a stock product, there are many supply-chain challenges that your business may face: a global pandemic, a natural disaster, trade wars or trade restrictions, strikes or labor disputes, supply and demand discrepancies, and port congestion or complications.
If your products or components are stock or "me-too" products, then you most likely will be affected by all of the above at some point in time. This can cause you to miss the opportunity to remain profitable during an economic downturn or recession. However, if you were to instead choose an HQC's custom injection molding, you could protect your business from lines sitting down during times of crisis.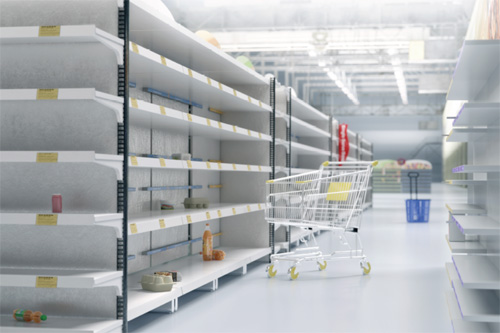 The current hand sanitizer shortage is an unfortunate example of how stock products can cause major disruption in the ability to manufacture a product and get it to market quickly. Hand sanitizer manufacturers are frantically searching for things like weld spouts and plastic closures for hand sanitizer. Unfortunately, because most of these larger companies are using the same exact mold for these pouch fitments and plastic closures, their lead times have been pushed out to 13-14 weeks during this spike in demand.
Incurring such long lead times during a surge in the market or during heightened demand of a certain product means that you're missing a significant opportunity to produce more and service consumers in need. This is what makes choosing stock products or components a risky move for your business. Alternatively, choosing to partner with HQC on a custom injection mold for your products, means that we run ONLY your product on that mold; thus we can get you your products in as little as a 2-4 week lead time!
So why do manufacturers continue to choose these "me-too" or stock products as a part of their business logistics model? One factor that plays a part here, is that manufacturers simply overlook this entirely until they are faced with one of the aforementioned supply-chain disruptions. This is why it is important to work with HQC on custom solutions ahead of time, and from the get go, rather than frantically trying to play catch-up when disaster strikes.
The main reason that companies purchase stock products, however, is the cost. With so many companies purchasing the exact same weld spouts or plastic closure components for example, the supplier is able to bring the price point down significantly due to the collective larger quantities being ordered. However, working with HQC on a custom product can prove to have many cost advantages as well. For example, HQC has the ability to make components of your products without you having to invest in the entire mold. We also have certain programs in place, under which you can keep stock within our warehouses. This allows you to purchase and produce in larger quantities, bringing costs down and ensuring that you have sufficient inventory on hand.
Additionally, many businesses simply see the cost of an injection mold, but overlook the fact that it is a depreciable asset. Because HQC is making the closure unique and customizable, there are tax advantages as well. R&D tax credits, which are dollar for dollar savings, apply not only to the cost of the mold, but also to the expenses that go into developing the product itself.
As you can see, working with HQC Incorporated on a custom mold for your product is the best way to protect your business from supply-chain disruptors. Not only are there cost and tax advantages to making your product with us, but choosing HQC means shorter lead times and better control of your supply-chain. So let HQC Inc. create unique injection molding for your business, get you out of stock product components for good, and set you apart from your competitors.
Call us today at 630.820.5550 to see how we can not only assist you during the current global pandemic, but also help to set you up for success in the face of future economic downturns.